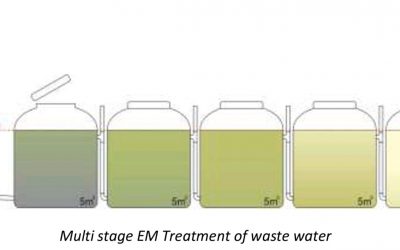 Grey water is basically soapy water and does not contain a lot of pathogens.
Only when it is allowed to sit in tanks and rot is when it becomes smelly and nasty to deal with.
This is where Effective Micro-organisms (EM) comes in.
https://en.wikipedia.org/wiki/Effective_microorganism
EM is used globally for numerous medicinal, agricultural and environmental applications.
In the case of grey and black water management, we will use EM to break down solids, soaps, destroy any undesirable bacteria & pathogens, prevent / remove any foul odours, and enhance the quality of the water which will then be used for irrigation.
read more