Recycle market
0 waste to landfill
Nutrient circular economy
1. Preamble:
Trash
We humans are the only creatures on Planet Earth that produce waste. In fact, we invented the word "waste". Before man stepped foot on Planet Earth, absolutely everything was recycled naturally.
Our modern day lifestyles of convenience, our farming practices, our food chain production & distribution, and quite literally everything we touch has a component of "waste" associated with it..
2. Background – THE CHALLENGE
 POLLUTION, GLOBAL WARMING and CLIMATE CHANGE
Waste pilling up in landfills dumpsites not only pollutes the air with harmful GHG's, it also pollutes rivers, lakes, underground aquifers and the oceans that we and all life on Planet Earth depend upon.
To compound matters, the use of charcoal as the primary cooking fuel by the millions of low income dwellings around every city and town in Kenya and sub-Sahara is resulting in the burning down our forests at a non-recoverable rate. The loss of the equatorial greenbelt across Africa is leading to global warming and climate change.
 REVENUE
Our governments spend millions of tax payer dollars every year trucking waste to landfill dumpsites on the outskirts of the centres
 GANG ACTIVITY
Dumpsites encourage the development of densely populated slums around their borders.
With very little policing combined with a lack of schooling, gangs form and a host of antisocial activities become commonplace – bullying, drug peddling, prostitution, child abuse, robberies, mugging, and other more serious criminal activities.
Unless there is an immediate and deliberate attempt to reduce the use of charcoal, the Sahara desert will consume Kenya.
 FOOD AND HEALTH
International research has directly linked the sharp increase in cases of cancer and other diseases to the chemicals used as fertilisers and pet control by our farmers. Conventional agriculture practices encourage the use of chemical herbicides and fungicides before planting, during growth and even post-harvest to "preserve" grains and other farm produce.
This is compounded by the misleading advice and inappropriate sale of chemical to unsuspecting farmers by unscrupulous agro-vet dealers just wanting to make a quick buck.
While the waste dumped in landfill consists of 60 – 70% organic material, this can easily be converted back in rick fertiliser and used for healthy rich food production.
3. THE SOLUTION
3.1 DECENTRALISED RECYCLE MARKET's – ReMarks
 Managing Waste at Source
 Reusing, Recycling & Repurposing Everything
 Nutrient Circular Economy
 Clean Green Energy to replace wood fuel
 Reduced GHG emissions
 Reduced water pollution / contamination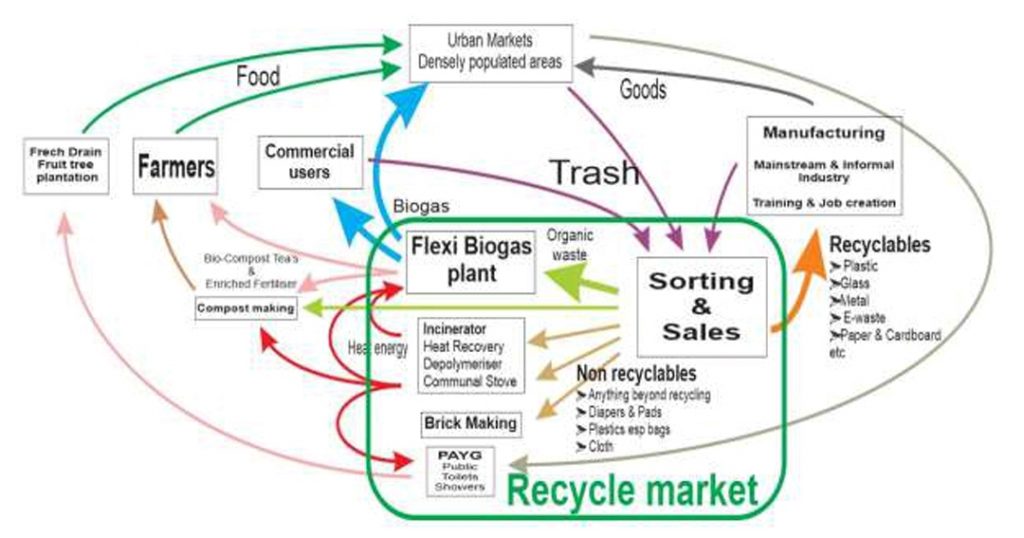 3.2 How It Works
It is really quite simple.
 As opposed to trucking tons of waste from estates, market places, street corners etc to centralised dumpsites, our technique proposes setting up modular compact large capacity waste management facilities where large volumes of organic waste are generated. These facilities will recycle and repurpose 100% of the waste materials, with nothing remaining requiring that would have required "dumping".
 Keeping in mind that 70% of waste ending up in our dumpsites is organic material, once this has been separated and repurposed into fertiliser, the remaining 30% will be more easily managed.
 Once separated, reusable materials will be sold on to mainstream recycling industries and SME's repurposing materials.
 The remaining totally unusable materials incinerated and heat recovered used commercially.
Floor plan – Typical medium town capacity of 20 tonnes per day.
o Organic Capacity 15 – 20 ton/d
o Recyclables 5 – 6 ton /d
o Incineration stuffs 3 – 4 ton/d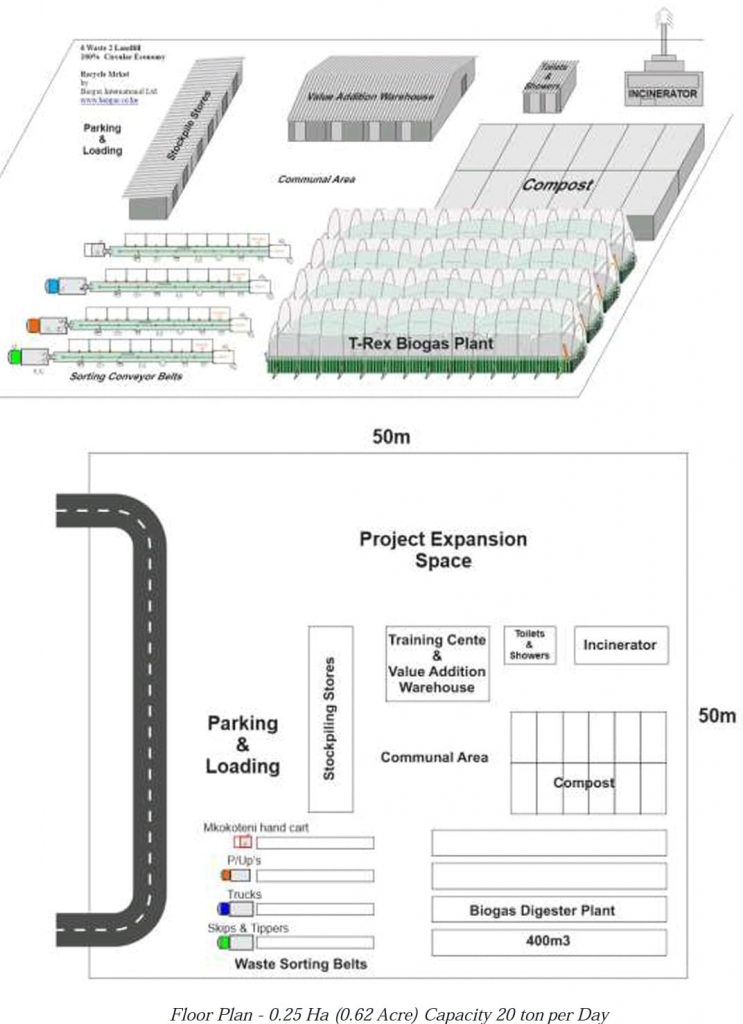 NOTE: Every component of a Recycle Market is modular and can be scaled to meet the demands of townships with waste volumes larger than 20 tonnes per day.
3.3 Waste Segregation:
A key to achieving effortless operation of the ReMark facility is the separation of the waste into 3 main categories:
a. Organic material
 Market waste
 Kitchen waste
 Commercial food waste
b. Recyclable materials
 Plastic's
 Glass
 Paper & Cardboard
 Metals
 Wood
 Tetra Pack
 Ceramic's
 E waste
c. Non-recyclable materials
 Diapers
 Single use plastics
 Wet cartons and packaging
 Cloth
 Shoes
3.3.1 In-Markets: Separation in 2 categories – Organic and Non-organic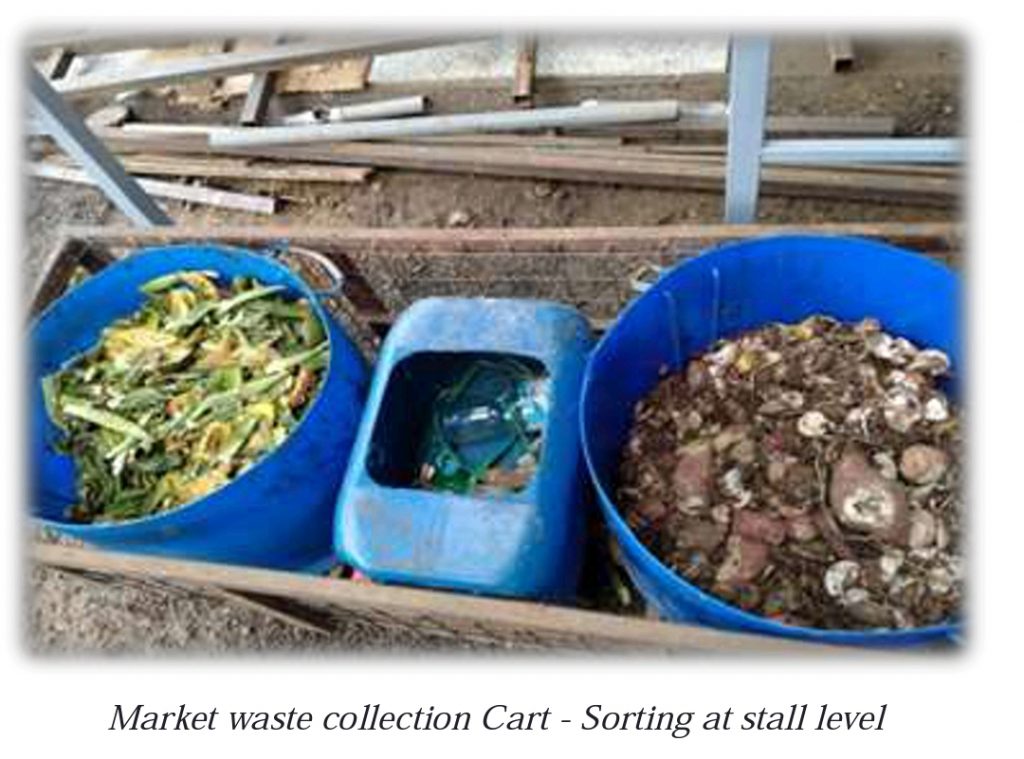 3.3.2 In-Towns: Waste Collection Vehicles from town businesses and
residential estates.
 Municipal Tucks and Skips
 Private waste collectors – Trucks and P/Up's
 Mkokoteni / Rickshaw collectors
3.3.3 Municipal Tucks and Skips: Larger conveyor belts will manage these heavier loads.
Conveyor Belt Waste Sorting System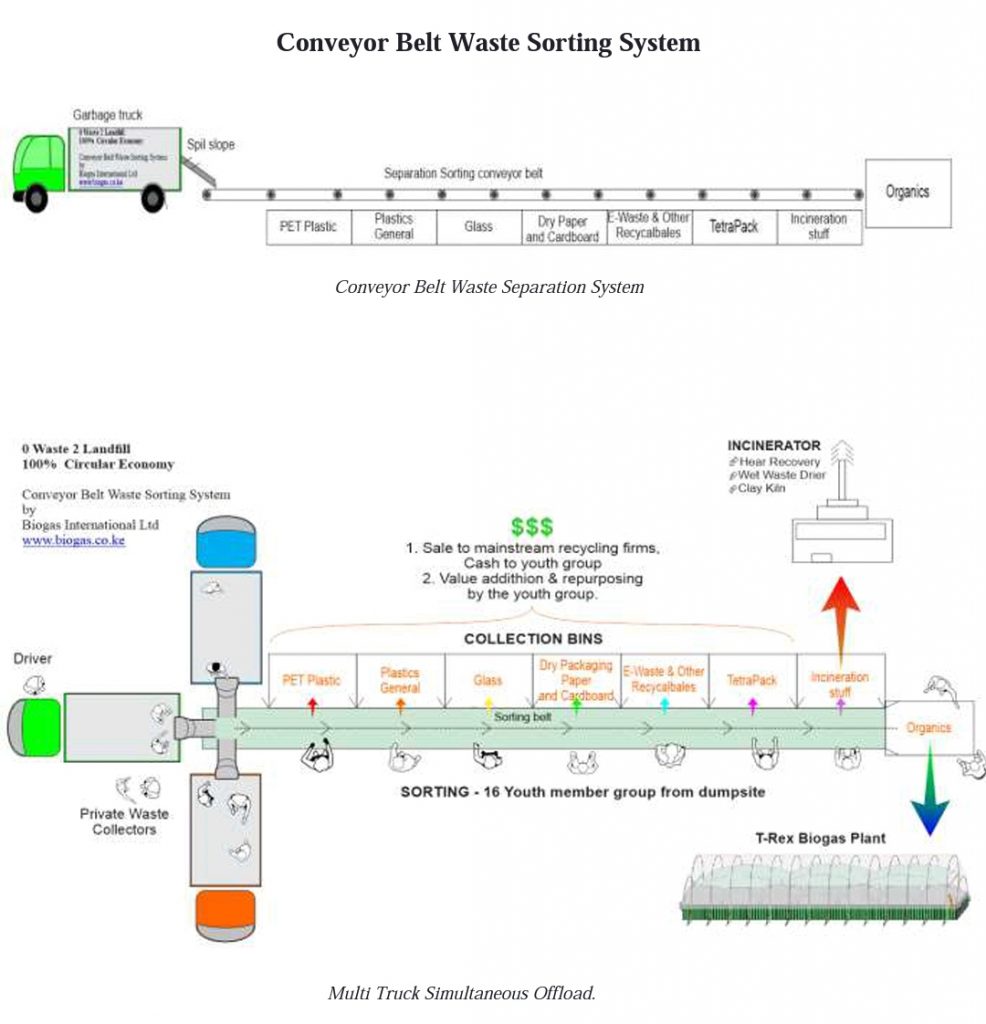 4. OUTCOME: Benefits.
 The organic waste will be fed to the Biogas Plant .
 All the different types of waste will sold to the appropriate recyclers.
 Heat-recovery incineration of useless undesirable waste such as diapers, cloth, shoes etc.
 BioGas sold used to offset the use of charcoal
 Bio-Fertilisers sold to farmers
 Youth and Women groups will be trained in waste collection and separation.
 WORKFORCE: JOB CREATION & OPPORTUNITIES
 BIL will engage registered waste picker groups form the dumpsite to manage the separation of waste on the sorting belts at the ReMark stations.
 In return for their time, the group will own all the reusable items and materials they remove from the waste belt.
 BIL will help the groups in finding markets for these sorted materials.
 BIL will manage the organic material and the remaining useable waste.
 BIL will also train interested pickers on the different value addition skill, so individually or as group they can generate higher incomes.
 BIL will help finding markets for these vale added products.
 URBAN ENERGY BIOGAS-ON-TAP CYRCULAR ECONOMY
Replacing charcoal with biogas in homes, restaurants, communal kitchens etc will reduce deforestation.
The clean burning biogas will also have immeasurable health benefits, especially to women and children in their cooking environment.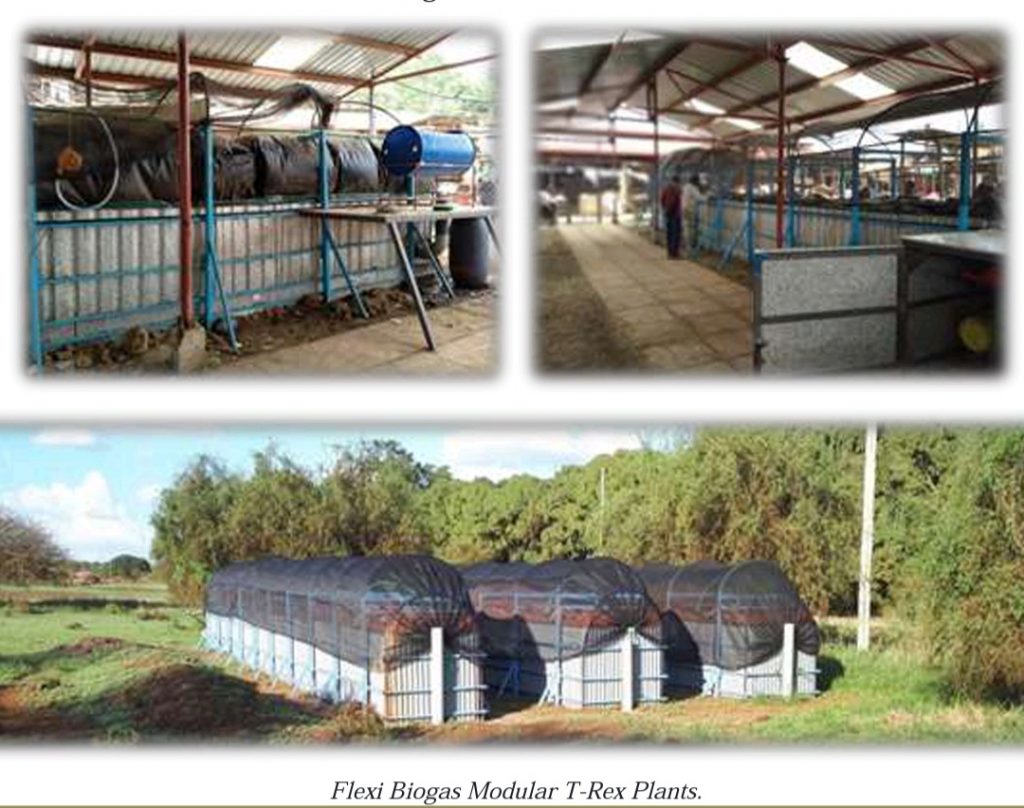 5. DIRECT END PRODUCTS:
 ORGANIC LIQUID BIO-FERTILISER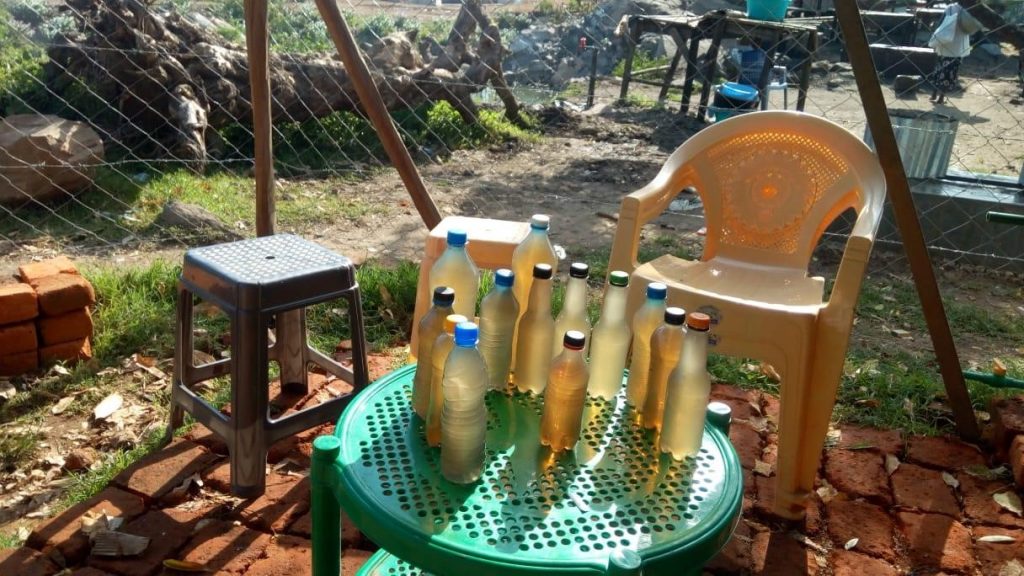 What goes in must come out, and does so in the form of a rich organic compost tea. This can be applied as a fertiliser to topsoil, fed through sprinklers or drip-line irrigation systems, or added to compost for building healthy topsoil.
When sprayed on crops as a foliar feed, the bio-tea also doubles as an extremely effective pest repellent on crops.
Considering that the inputs material to the digesters is fresh organic material and not dung, the bio-tea also double as a livestock feed supplement.
 ENRICHED ORGANIC COMPOST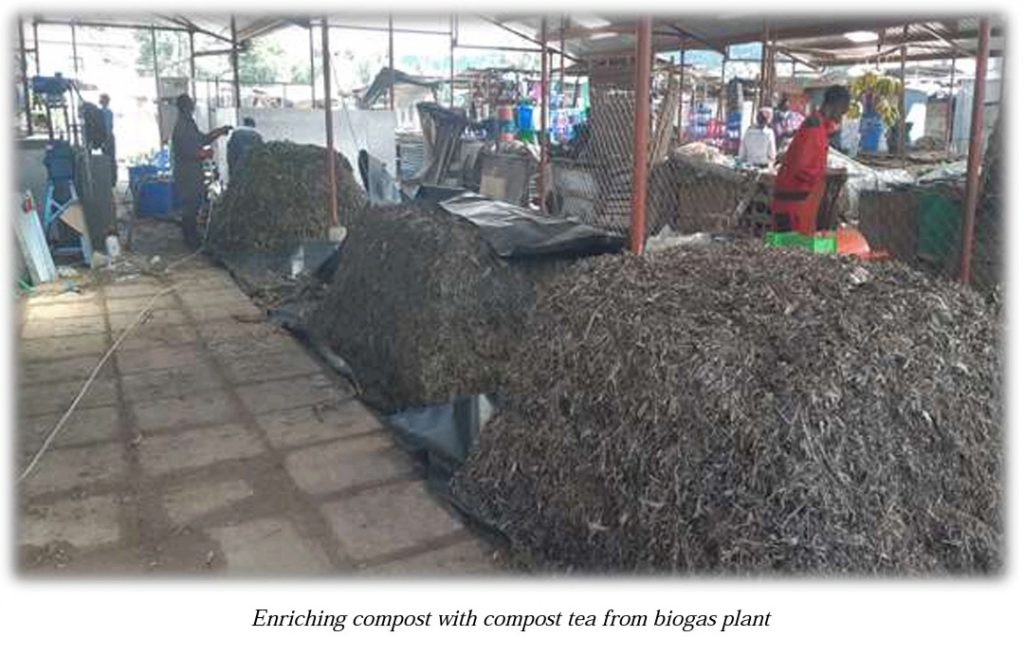 6. VALUE ADDITION AND REPURPOSING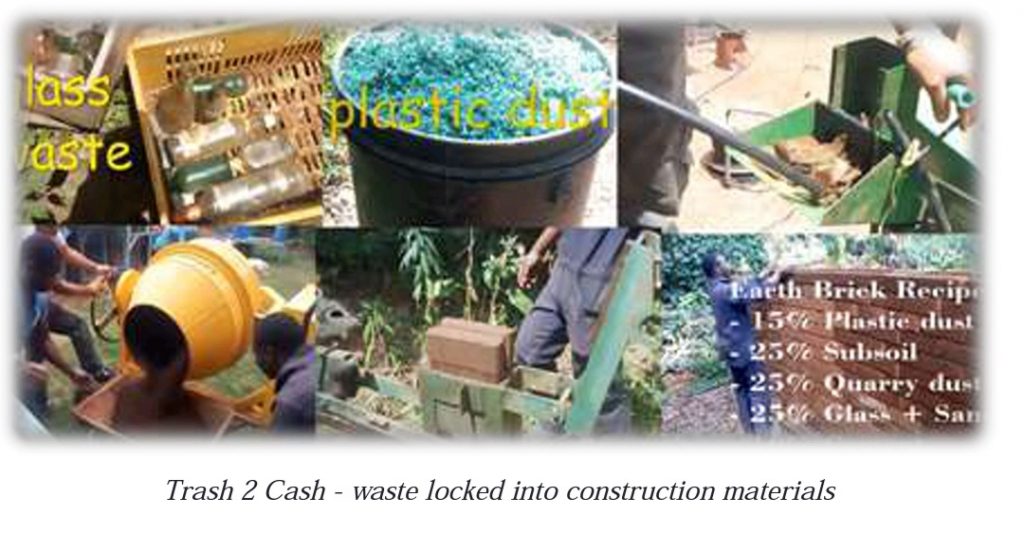 7. SUSTAINABILITY: Social Enterprise Model.
The business model set up as that of a social enterprise with low profit to cover running costs. Income generated will go into running the plant and profits put towards replicating the model in other areas.
8. VERSATILITY:
 Our T-Rex digesters are prefabricated and modular allowing for relocation, upgrading or removal.
 Installation is only a few days for smaller plants, and a couple of week for sizeable plants.
 Gas-up is within 30 days.
9. SUSTAINABILITY & BUSINESS MODEL:
To guarantee sustainability, the model has to have a business angle where the sale of services and products generate income to sustain the operational expenses, as well as reasonable profits for expansion.
BIL will run the business side of the operation and administrate the incomes generated.
ZERO WASTE TO
LANDFILL!!
"RENDERING LANDFILLS OBSOLETE"
Biogas International Ltd
www.biogas.co.ke
biogasinternational@yahoo.co