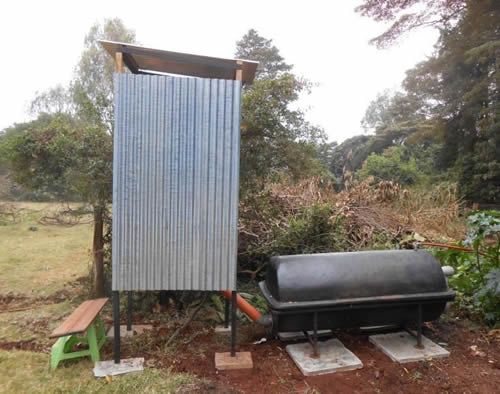 Hygienic toilets are a major challenge in institutions and children's homes. Flush toilets are a huge waste of fresh water resource.
The BioSanGas Toilet provides a clean hygienic solution whilst producing biogas and a rich fertiliser.
Although the biogas produced is perfectly good for cooking, most people would rather not. We therefore suggest the gas be utilised for hot water systems, to run machinery such as chaff-cutters, hammer mill, generate power for running computer lab, etc.
Again, although the bio-slurry from this system is a perfectly good fertiliser, most people are unwilling to use it for food production. We therefore suggest it used for tree planting programs. These include fruit trees, around the compound, live fencing and hedgerows, etc.
The BioSanGas systems are designed and fabricated as complete knockdown kits, and on-site assemble in only a few minutes. Each system as pictured will cater for an average of 50 children or 30 adults per day.